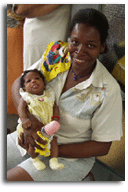 "My name is Digna. I came to MUCEC 13 years ago when I was sad and depressed because of problems with my husband. Even though I worked, I felt totally dependent upon my husband.
When I found out that my husband had other women, I couldn't even think of divorce. I was terrified with the thought of being without him. My entire world turned around him and my little girl.
It took me a long time to get my life life straightened out. But in the MUCEC center I learned to appreciate myself and that with a little effort and the support of many of the other abused women, I could continue alone with just my daughter.
These 13 years of sharing in the MUCEC center have helped me to use my talents, and now Iím one of those responsible for the workshops here at the MUCEC center.
I keeping trying to help other women at the MUCEC center and also to keep growing myself along with them."